Rose Wentz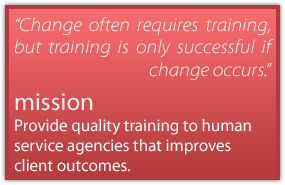 Rose Marie Wentz has worked in the field of public welfare and child welfare for 35 years. Experienced in providing services to public and private human service agencies, Rose has worked in over 85 counties and states agencies and in one foreign country.
Rose has an undergraduate degree in Social Work and a graduate degree in Public Administration. She is on the board of the National Staff Development and Training Association and was a Senior Consultant for the National Resource Center for Permanency and Family Connections for 13 years. – View Rose's Biography
NEW VIDEO
View Rose presenting two lectures on the laws, research and best practice of Parent/Child Visits:
Click here to watch part II
NEW ONLINE COURSES
Techniques for Interviewing Challenging Clients
The Basics of Effective Human Services Interviewing 
RECENT ARTICLES
Maintaining Family Relationships for Children in the Child Welfare System ABA Child Law Practice, Vol. 31 No. 7 July 2012,  Rose Marie Wentz and Kelly Lynn Beck
The Coaching Toolkit for Child Welfare Practice  Going Beyond Classroom training to improve individual employee's competencies and to implement practice to improve agency outcomes. University of California Davis, Northern California Training Academy is the lead on this book. Their coaching website contains some of the materials from the toolkit.
CONFERENCES
 West Coast Child Welfare Trainers Conference – July 16-18
This year's conference is located in beautiful Coeur d'Alene, Idaho.  Lewis and Clark explored this region on their Corps of Discovery adventure over 100 years ago and the same splendor they found is still here today.  Surrounded by mountains, rivers and majestic lakes it is a delightful setting for our 24th annual conference.
The West Coast Child Welfare Trainers Conference is a remarkably unique conference that focuses on the art and science of training in the child welfare system.  We will dive into the heart of teaching and learning, sharing best practices, discovering new resources and improving the quality of our practice.